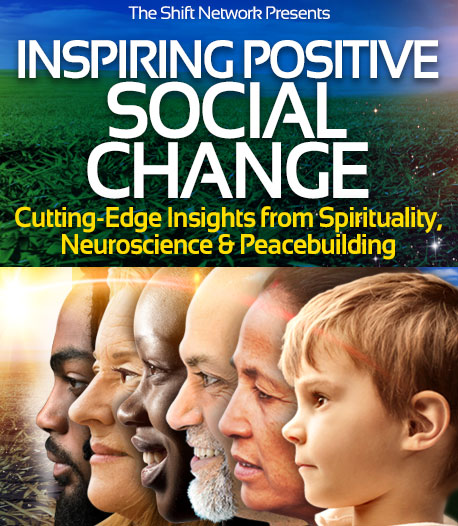 Program & Replays
You can still get access to recordings and transcripts for the summit sessions. Access the inspiration, resources and powerful practices presented by the experts featured in Inspiring Positive Social Change by clicking on the sessions on the left-hand side of this page.
Inspiring Positive Social Change is a series where thousands of people like YOU from around the globe learn invaluable techniques in stress reduction, overcoming fear and self-doubt, developing self-esteem, cultivating compassion and forgiveness, communication skills, community peacebuilding, conscious activism and living from a place of inner resilience and Oneness.
We curated an exclusive collection of speakers and sessions for the curriculum in this series... which began with a 2-day kickoff, followed by weekly session releases:
The 2-Day Kickoff
Featuring peacebuilders from many perspectives
Mindfulness & Compassion
Featuring interviews with Emily Hine, Sharon Salzberg, Rhonda V. Magee & Jeena Cho
Peaceful and Compassionate Communication
Featuring interviews with Roxy Manning, Deborah Rozman & Rita Marie Johnson
Forgiveness
Featuring interviews with Azim Khamisa, Gerald G. Jampolsky, Diane Cirincione & Colin Tipping
Bridging Divides in Relationships, Communities & Politics
Featuring interviews with Mark Gerzon, Shariff Abdullah, Martin Hellman & Dorothie Hellman
Rewiring the Brain for Peace
Featuring interviews with Dara Ghahremani, Jeremy Richman, Sabrina N'Diaye & Donna Hicks
Nonviolence: Lessons from Gandhi and King, Where Do We Stand Today
Featuring interviews with Michael Nagler, Stephanie Van Hook, Erica Chenoweth & Rev. James Lawson
Inner Dimensions of Climate Change: Right Relationship with the Earth and All Communities Life
Featuring interviews with Dena Merriam & Chief Phil Lane, Jr.
Subtle Activism: The Power of Prayer and Meditation for Personal and Social Transformation
Featuring interviews with David Nicol, Llewellyn Vaughan-Lee, Joanna Macy & Sean Kelly
Discover innovative ways YOU can integrate the wisdom of neuroscience, spirituality and peacebuilding to BE the change you want to see in the world… and the change our world so desperately needs!
Together we are creating a legacy of good for generations to come...
Pax,
Philip Hellmich
Director of Peace
The Shift Network